Classification
Edit
Normal

Certain creatures may be temporarily boosted

Elite

Stronger variations of Normal creatures

Boss

Powerful, high defense rating creatures with many unique abilities
May only be placed in the Boss Room

Wanted

Generally powerful variations of normal creatures with unique abilities and appearances.
High material cost to craft

Summoned

Summoned by skills or creature abilities
Cannot be crafted
Melee Attacker

Creatures that get up close and personal

Ranged Attacker

Fires projectiles from a distance
Generally high damage

Tank

High Health creatures that tend to have low damage

Support

Creatures with special abilities that enhance the combat capabilities of nearby creatures
Medium to low hp.
Low or no normal attacks.

Control

Creatures that specialize in moving the hero.
Creature Stats
Edit
Attack Speed
Edit
| Attack Speed | Seconds |
| --- | --- |
| Very slow | 2.50 |
| Slow | 2.00 |
| Medium | 1.50 |
| Fast | 1.00 |
| Very fast | 0.50 |
Movement speed
Edit
| Movement Speed | Meter per second |
| --- | --- |
| Very slow | 3.00 |
| Slow | 3.50 |
| Medium | 4.00 |
| Fast | 4.50 |
| Very fast | 5.00 |
Aggro zone
Edit
The Aggro zone ring can be changed with ALT on each creature
If the creature sees the player he will get everyone in the aggro ring as his aid
this means if you attack a smaller creature on the line who haves a aggro zone with less creatures in it, the hero will pull less creatures
the numbers in the aggro zone is the number of creatures that will fight the rest will wait till there is place in the Attack Ticket System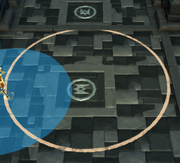 Attack Ticket System
Edit
Main article: Attack Ticket System
Ad blocker interference detected!
Wikia is a free-to-use site that makes money from advertising. We have a modified experience for viewers using ad blockers

Wikia is not accessible if you've made further modifications. Remove the custom ad blocker rule(s) and the page will load as expected.