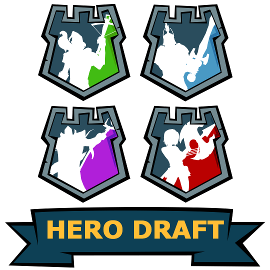 Painhammer, Blackeye, the Earl and the Runaway have come to an agreement: they will allow you all to play one of them entirely for free, every week.
If you play them correctly and train them enough, they will consent to cut off a huge chunk on their Heroes' fees.
During the Hero Draft, the current hero may be unlocked permanently at a discounted rate, depending on how high of a level they reach.
Undiscounted unlock cost is 950

Bling Discount
Edit
| Level | Discount | Final Cost |
| --- | --- | --- |
| 5 | 50 | 900 |
| 10 | 150 | 800 |
| 12 | 350 | 600 |
| 15 | 650 | 300 |
Event Rewards
Edit
During the initial event, an exclusive iLvL 15 Epic Weapon and Costumes could be obtained for each hero if certain requirements were met. The exclusive Nigel Pet was also only available during the initial event.
To unlock the Epic Weapon, players had to obtain level 15 with the hero.
To unlock the Costume, players had to collectively reach a set number of successful castle attacks with the current hero. Alternatively, the costumes could also be purchased in the Cornelius' Emporium for a limited time.
External Links
Edit
Ad blocker interference detected!
Wikia is a free-to-use site that makes money from advertising. We have a modified experience for viewers using ad blockers

Wikia is not accessible if you've made further modifications. Remove the custom ad blocker rule(s) and the page will load as expected.