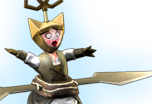 Crafting Level:
2
80
Level
Physical Damage
Health
1
2
3
4
5
6
7
8
9
10
11
12
13
14
15
Level
Physical Damage
Health
16
17
18
19
20
21
22
23
24
25
26
27
28
29
30
260
5964
The Stabsassin has no normal melee attack; it uses Blade Whirlwind exclusively.
Abilities
Blade Whirlwind
The Stabsassin moves X meters in a straight line while quickly spinning its hip blades, dealing Y damage to heroes within melee range.

The Stabsassin's movement speed is greatly reduced when using Blade Whirlwind
At the end of its dash, the Stabsassin's blades slow their rotation as the creature wobbles to a brief stop.
A limited number of Stabsassins may be recruited for a small gold fee from Cornelius' Emporium for players who chose the Foggy starter castle
Reduced defense rating from 3 to 2 points.
Normal Creatures Elite Creatures Bosses Wanted Uncraftable
Ad blocker interference detected!
Wikia is a free-to-use site that makes money from advertising. We have a modified experience for viewers using ad blockers

Wikia is not accessible if you've made further modifications. Remove the custom ad blocker rule(s) and the page will load as expected.